It's been a wonderful day. The sun was glorious, the allotment uplifting, a coffee in the gorgeous
King John's Nursery
and I even mowed the lawn. Any one of these events could have been a blog post. I could have written about the fabulously gaudy colours of the gladioli, the audible hum of the bees, the children's never-ending games of Mum's, Dad's, sister's and babies or even about my impending trip to Wales and another festival.
But no. I'm afraid it is another one about the Olympics. Last one, I promise.
Today was the individual dressage competition when the horse appears to dance to music. Rider and beast are in complete unison and (hopefully) in time to the music. Even the most heathen of equestrians will appreciate the beauty of the horses and sheer power and training that has gone into this sport.
And when Charlotte Dujardin entered the ring, on her stunning horse Valegro, known as Blueberry in the stable, the tears started streaming down the cheeks. Extended canter to 'Land of Hope and Glory' across the arena and pirouettes to the chimes of Big Ben tugged harder at the heart. I couldn't quite understand why I was sobbing so much and so loudly. Was it the admiration of her riding and accuracy, as I know how difficult it is to ride in a simple circle? Was it the beauty of the horse and the ease of the rider? Was it her age and the fact she was so young? Was it London? Was it Great Britain? The patriotic choice of music? Was it because she won GOLD?
All of the above.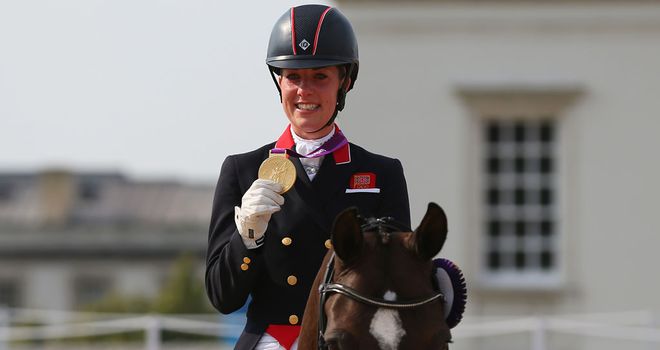 Once it was over and the medals awarded I felt a sense of relief, that life can resume some sort of normality. Zooming straight to the nearest store for an emergency pair of children's wellies for the festival this weekend, there before me was a beautiful, black, velvet riding hat in exactly
A's
size. She tried it on and grinned as it fit her, then proceeded to do a perfect piaffe around the shop.
"I want to be like
Anky van Grunsven
riding Salinero in the dressage," she said, enjoying the way the foreign names rolled off her tongue.
I had no idea she had been taking this all in. So we bought the hat.